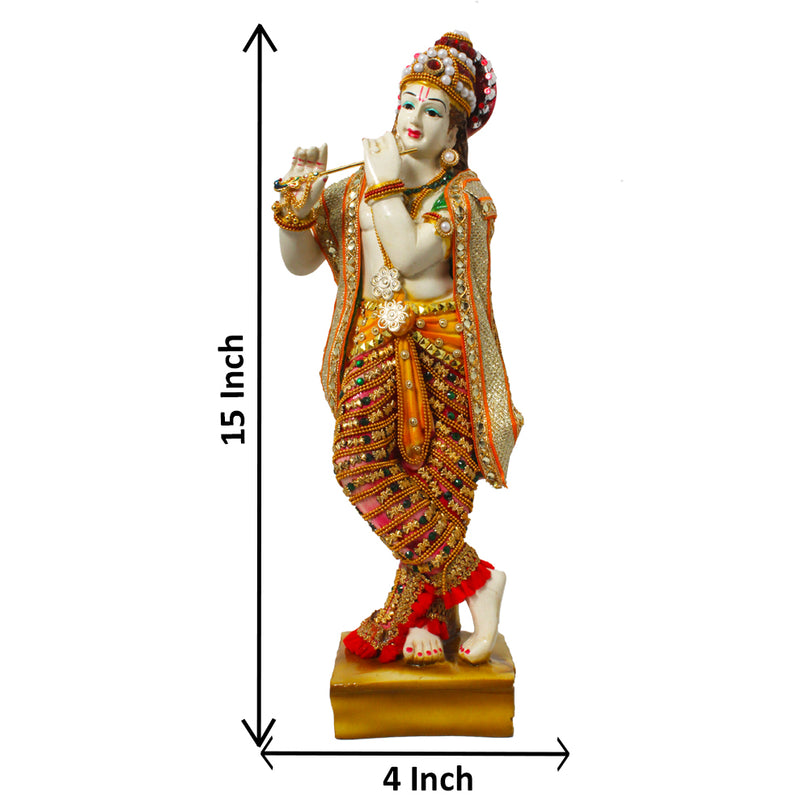 THE DIVINE STANDING LORD SRI KRISHNA PLAYING FLUTE IS THE EPITOME OF PEACE, ELEGANCE & GLORY
BEAUTIFULLY HANDCRAFTED & DETAILED IDOL
This handmade Lord Sri Krishna Idol has been finished with an intricate gloss finish. With his flute in hand, Lord Sri Krishna is in a crossed leg position and playing the sweet flute. Soft pastels, white complexion, gold highlights, and jewelry furnish him with a heavenly look. Lord Sri Krishna is known as the Flute lover, Gopal, or Govinda. This beautiful Idol has a marvelous finish and texture. This Idol is the perfect addition to any Puja room to please the Lord and impress others. 
ATTENTIVE DESIGN BY THE BEST CRAFTSMEN
This exquisite Sri Krishan Idol exhibits intricate craftsmanship. Very few of these pieces are made which makes them so exclusive and unique. Handmade and made using an age-old method that has been around for centuries. Beautifully crafted and truly majestic. An exclusive item for collectors or devotees. 
SURPRISING GIFT ON JANMASHTAMI
This Lord Sri Krishna Idol is the perfect gift for any Lord Krishna devotee or can even be used as a decorative statue. Having this Lord Sri Krishna Idol in your home is an honor to his Holy name and is of infinite benefit. Suitable for a host of uses, including home temples for Puja, home decor, Indian wedding return gifts, Janmashtami, or even Diwali gifts.
Beneficial Impact: In the form of these Idols, Lord Sri Krishna brings divinity and spirituality to the world. Decorate the Office, Home, or Temple with them. Known as the god of love, prosperity, and wealth, Lord Krishna is the embodiment of all three. The statue represents all these good omens he brings to your home.
Key Features: 
Handcrafted with skill and detailed attention to ensure a smooth and shiny surface

Enhances the appeal of your altar or pooja room

Made with high-quality material that is resistant to corrosion

An excellent gift for housewarming and numerous festive occasions

Measures 4" W x 15" H

Made in India by skilled craftsmen
At Radhe Radhe, our commitment to our community and culture is paramount. We stand behind our community with the best quality products and services. Our ultimate goal is to make sure our customers are satisfied with our product from the moment they bring it into their lives.
So what are you waiting for? Simply click on the Add To Cart Button to get this amazing Lord Sri Krishna Idol, and enjoy the spiritual satisfaction.
excellent service, brilliant work. Good use of digital technology and delivery was early and intact.
Wasn't sure if purchasing this was a good idea online.
It was for a gift and it was absolutely beautiful. The details and size is perfect. Would definitely recommend buying this Krishna.