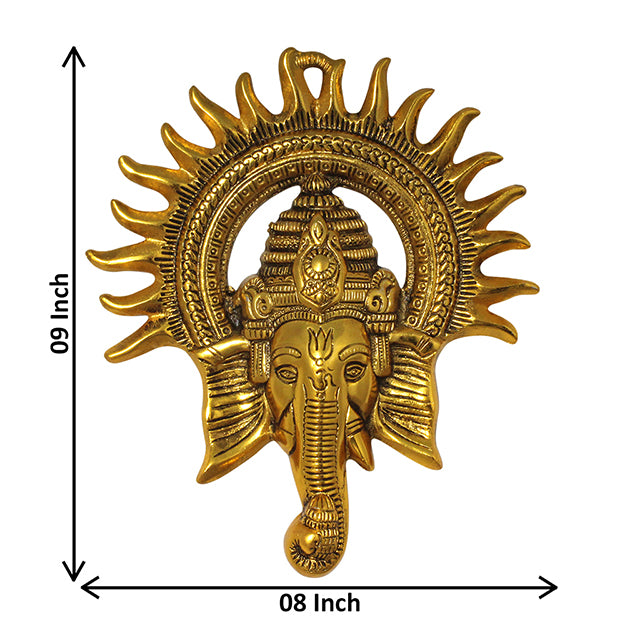 BE GRACED BY THE SUN SRI GANESH JI HEAD SCULPTURE FOR WISDOM, PROSPERITY & SUCCESS
BRINGS GOOD LUCK AND PROSPERITY
This metal Sun Ganesha wall art sculpture gives any surrounding a majestic look while being graced by Lord Sri Ganesh Ji. Beautiful and brimming with classic sophistication, this wall decor will catch everyone's eye in any room. Vastu gives a great deal of insight into the importance of placing an idol of Lord Sri Ganesha in the living room. According to Vastu Shastra, Lord Sri Ganesha's idols are believed to bring a lot of prosperity and good fortune. 
ADDS A SOPHISTICATION TO YOUR DECOR
This attractive Handmade Vastu Lord Sun Ganesh Hanging Sculpture is exquisitely handcrafted by Hindu artisans. You can enhance the beauty and charm of your surroundings with this handcrafted piece.  
UNIQUE DESIGN MAKES THOUGHTFUL GIFT
A magnificent design with intricate details and a high-quality antique finish Vastu Lord Sun Ganesh Ji. As a gift, this is both auspicious and classy. Gifts like this are perfect for all kinds of celebrations and festivities. It is also a great corporate gift and a great Indian souvenir during Indian traditional occasions like Diwali, Puja's, Ganesh Chaturthi, and Grahpravesh.
Key Features:
Provide a rich and powerful look  

The artful

piece will instantly elevate your mood

Build of the traditional style finish the look

Be graced by the God of wisdom, prosperity, good luck, and success

Handcrafted authentically in India

The craftsmanship of the highest level

Best Diwali gift to give to loved ones, students, or workers

Never-diminishing premium paint

Dimensions 9 x 8 inches
At Radhe Radhe, our commitment to our community and culture is paramount. We stand behind our community with the best quality products and service. Our ultimate goal is to make sure our customers are satisfied with our product from the moment they bring it into their lives.
So what are you waiting for? Simply click on the Add To Cart Button to get this amazing Sun Sri Ganesh Showpiece Wall Art Sculpture and enjoy the divine satisfaction.
Good size as described. Well packaged and arrived without damage. Light weight and perfect for what I was looking for.
Smaller than I thought it would be and very light weight good for wall