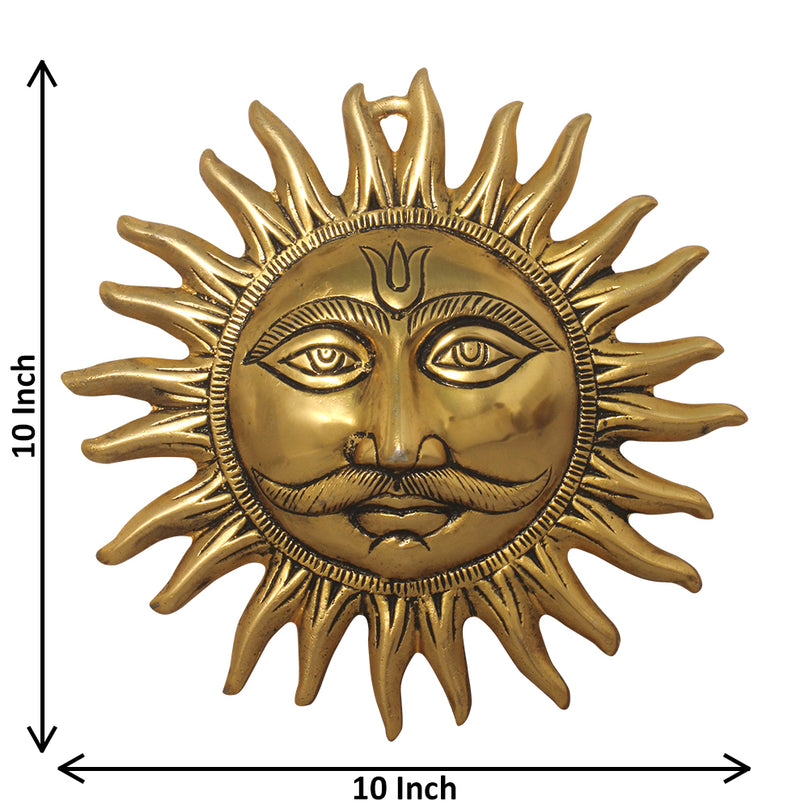 SURYA DEV -  TO STRENGTHEN GROWTH, BRING LIGHT & SUCCESS TO ANY ROOM
FOR BOTH BEAUTY AND SPIRITUALITY
Your home or workplace will be blessed and spiritually enhanced with the presence of this beautifully crafted wall sculpture of Sri Surya Deva. A carved brass round plate in the shape of the sun is this Surya Dev wall sculpture that is a collectible decor. Artifacts like this are very good omens to have to bring positivity and light, not to mention they are very eye-catching and appealing as home decor. For wall hangings or temple decorations, this premium quality handwork is lightweight and ideal.
PERFECT DECOR AND LOVELY GIFT
An antique-style brass decorative artifact, such as this one, is suitable for home and office, and temple decor. The exotic decorative item can be used to brighten any room removing any dark spirits. Give this beautiful art piece to someone you love as a gift to welcome a new phase in life or place it in your living room to pay respects to the powerful sun.
REPRESENTS THE SURYA POWER
Lord Surya, the supreme being, is a figure representing the power of success that ensures human achievement. Whether you want to decorate your living room with an authentic Indian flair, or you're planning to complete the decor of your home, this is the obvious solution. This beautiful carving effect gives the Surya Sculpture an embossed appearance and feel.
Beneficial Impact: You can hang Surya Devta's (Sun God's) wall hanging on the east or northeast wall of your child's room or home office to strengthen progress and prosperity. In addition, it can be enhanced and increased by combining it with other Vastu practices, objects, rituals, etc.
Key Features: 
Crafted with a skill for the best appearance

Enhances the appeal of any wall and temple doors

Long-lasting, lightweight & high-quality material

A great gift for any festive occasions

Measures 10" W x 10" H

Made in India by skilled craftsmen
At Radhe Radhe, our commitment to our community and culture is paramount. We stand behind our community with the best quality products and services. Our ultimate goal is to make sure our customers are satisfied with our product from the moment they bring it into their lives.
So what are you waiting for? Simply click on the Add To Cart Button to get this amazing Surya Dev hanging, and enjoy the spiritual satisfaction.
Surya Dev (Sun God) Wall Hanging Plate, For Positivity & Prosperity
Very cute statue. No running in the paint. Received it rather quickly. Perfect for the spot I hanged it on
Very appropriate indoor accent piece. Although the ad says it's construction wll stand up outdoors I cannot see it alone unless under a shelter. The artistry is what I expected for price, not high end but good craftsmanship as well as attractive.