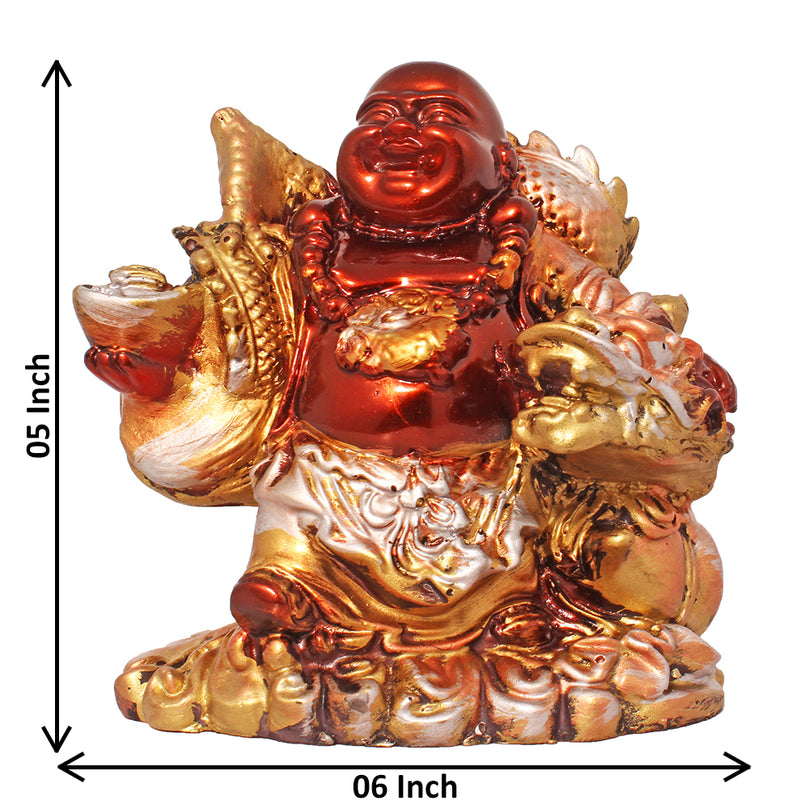 THIS JOYFUL LAUGHING BUDDHA IDOL WILL BRING AN ABUNDANCE OF HAPPINESS, RICHES, AND WEALTH
HAVE A LOOK, BE POSITIVE WITH A SMILE
This Laughing Buddha Idol can be of great help to you in many ways. Many cultures around the world believe the Idols of Laughing Buddha bring happiness, prosperity, and wealth blessings. As well as bringing good luck and happiness to people, it represents the energy of auspicious prosperity. When this Idol is in your presence, you will instantly feel good and have a sweet smile.
MATERIAL YOU CAN FULLY RELY ON
The greatest Indian craftsmen created this Laughing Buddha Sculpture with high-quality and solid materials. An elegant Red and Gold-like colors are auspicious in the Hindu religion as they represent wealth and prosperity. From the material to the processing, the quality standards are the best and can be brought with confidence.
BEST HOME DECOR AND A LOVELY GIFT
Put the Laughing Buddha, which represents wisdom, purity, and kindness, home, living room, bedroom, shop, business, office, and other places where wealth is made to bring you financial gains and good fortune. Additionally, it is the perfect gift for art lovers, Buddhist friends, relatives, loved ones, men, women. It can be given for any occasion, including holidays, birthdays, housewarmings, Christmas, and New Year's Eve gifts.
Beneficial Impacts: It is believed that the Laughing Budda Idol can help them to achieve inner peace, which is important for achieving wealth and happiness. In addition to adding tranquility to the environment, Buddha statues are also said to create positive vibes around your home. Your daily energy levels will be boosted by these positive thoughts created by Laughing Buddha Idol.
Key Features:
Place this laughing buddha Idol for an abundance of financial gains and wealth

Brings prosperity, positivity, and good fortune

Ideal for home, meditation rooms, or areas where money is made 

Crafted with finest materials by Indian craftsman 

Perfect gift for Birthdays, Housewarmings or Buddha Purnima

Dimension 05 x 06 inches
At Radhe Radhe, our commitment to our community and culture is paramount. We stand behind our community with the best quality products and services. Our ultimate goal is to make sure our customers are satisfied with our product from the moment they bring it into their lives.
So what are you waiting for? Simply click on the Add To Cart Button to get this amazing
Laughing Buddha Idol
and enjoy the divine satisfaction.
This is a sample product to show other Coustmer foe wholesale and retail no regrets on time service I even buy wholesale at great price
The statue is very well made and looks beautiful. Recommend it.
What a beautiful statue. I was surprised when I opened it and I am extremely happy with it. So pretty.