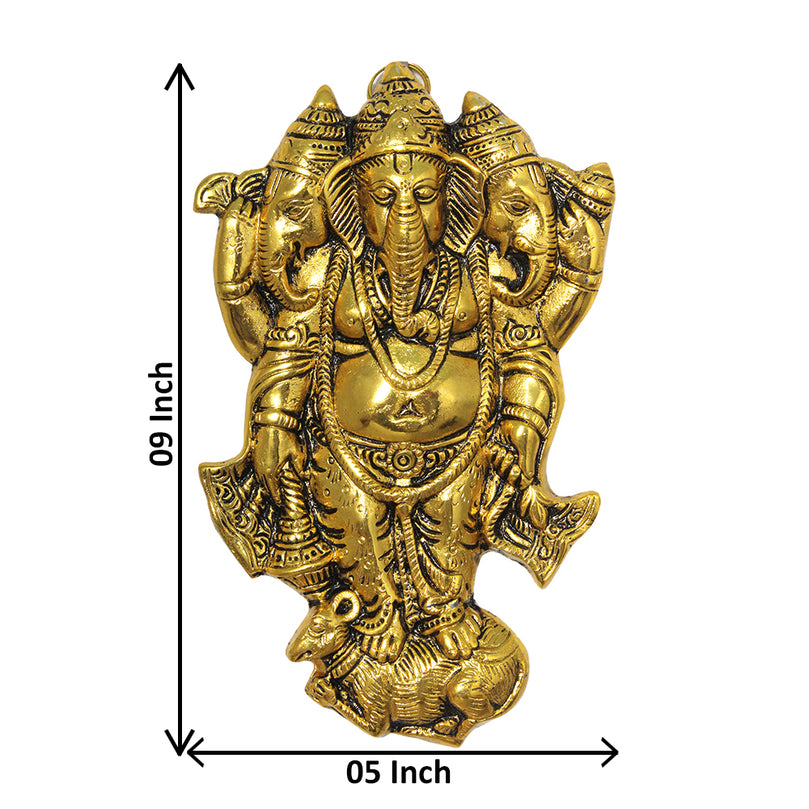 PLACE THIS POWERFUL 3 HEADED TRIMUKHI GANPATI ON YOUR WALL FOR ALL YOUR WISHES TO BE FULFILLED
GOODNESS, PASSION, AND WISDOM
This Three-headed Sri Ganesh Ji Statue On Mushak Raj is a stunning piece of art. The Sri Ganesh Ji idol with three heads is called Trimukhi Ganpati. These three heads are considered the qualities of Sattva as goodness, rajas as passion, and tamas symbolize ignorance. It is believed to be the most powerful idol of all. Bringing this Three-Headed Ganesh Ji Idol helps in overcoming the fear of life and odds. 
HE ALWAYS LISTENS TO HIS DEVOTEES
Most of the Hindu devotees believe that worshipping Lord Sri Ganesh Ji is beneficial for lives and the purity of mind but it is also said that praying the three-headed Sri Ganesha Ji Murti gives even more benefit. Sri Ganesh Ji is the humblest God in Hindu dharma. He always listens to his devotees and showers his blessings. Simply Bring this Sri Ganesh Ji Idol to get numerous benefits. 
EXQUISITE DETAILED CRAFTSMANSHIP
This premium Three-headed Sri Ganesh Ji Wall Hanging Idol is made by master sculptors in India. It is hand-painted in bronze finish with color accents to give a high-quality look without sacrificing the details of its light-weighted design. Statue of Sri Ganesh Ji sitting on Mushak Raj (His servant mouse). Mushak is the Vahana of Lord Ganesha. An amazing centerpiece to any decor at home or in the office. A great addition to any Hindu collection.
Beneficial Impact: According to Vastu, placing Lord Ganesha's idol either in the west, north-east, or north direction. Positivity and prosperity are brought to the home, and the surrounding area is benefited.  Never let the idol face south because it can do more harm than good. It should never be near a washroom, toilet, or against a wall attached to it.
Key Features:
Trimukha is the most popular form of Lord Ganesha. 

Ideal for friends or relatives who are ardent worshipers of Lord Ganesh.

bring success and prosperity into your life 

Helping to remove difficult obstacles

The craftsmanship of the highest level
Best Diwali gift for students to workers
Never-diminishing premium paint

Dimensions are 9 x 5 inches
At Radhe Radhe, our commitment to our community and culture is paramount. We stand behind our community with the best quality products and services. Our ultimate goal is to make sure our customers are satisfied with our product from the moment they bring it into their lives.
So what are you waiting for? Simply click on the Add To Cart Button to get this amazing Three-headed Sri Ganesh Ji Wall Hanging Idol, and enjoy the spiritual satisfaction.
Very Good quality product. Definitely recommended
It was perfect. The size was exactly what the description noted. It wasn't too heavy or too light. It was just perfect.