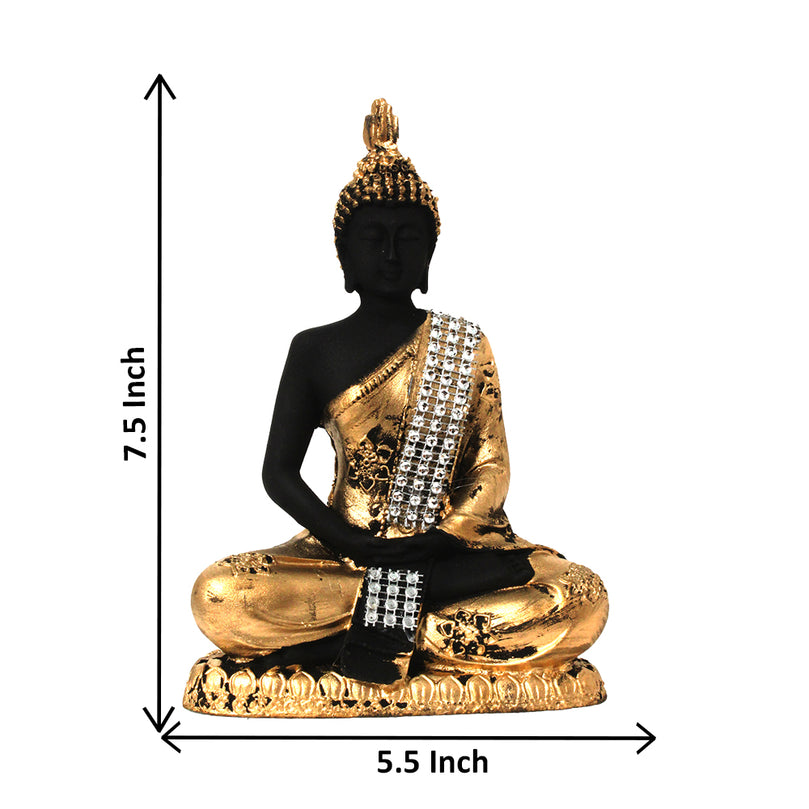 MEDITATING BUDDHA IDOL WITH CLASSY BLACK, GOLD & DIAMOND DESIGN 
BRINGS PEACE AND HARMONY
This Wise Buddha Meditating Peace Harmony Idol enhances your home or office with peace and harmony. Idols like this are miracles as you do not have to be a Buddhist to keep this piece in your life. As the peaceful Buddhist nature of this Oriental sculpture has a spiritual nature, it can be placed anywhere to purify energy with a sense of elegance. It is hand-painted in a gold or black color with an antique finish to add a sense of modern style and beauty to any decor.
WONDERFULLY DETAILED CRAFTSMANSHIP
Wise Buddha Meditating Peace Harmony Idol is in the lotus pose with closed eyes, folded hands, and crossed legs has a silver-finished robe with floral motifs and etched flourishes, silver-finish headdress with shiny stones, with the black-finished body juxtaposed against it. Ideal for meditation, spiritual living rooms, and yoga rooms. It would make a wonderful gift for people who appreciate Buddhism while decorating their surroundings with fine art on special occasions. 
BEST DECORATIVE PEACEFUL IDOL
Hand-painted and polished in realistic detail, this exclusive creation is an exclusive creation. Suitable to use as a decorative item, unique home decor or table decor, enhance peace and harmony in your home or office. 
Beneficial Impacts: Buddhists often keep the Meditating Buddha Idol in any room in-home or prayer rooms. As a result, it gives off positive, relaxing energy to aid in relaxation and concentration. As an image of eternal knowledge and enlightenment, it would be appropriate to put it in the corner facing East. A peaceful mind and a clear aura will result.
Key Features:
Wipe the sculpture's dust off with a dry cloth

Peaceful and harmonious symbol

Creates positive energy for a peaceful mind a clear aura

Materials that are durable are long-lasting 

Excellent gift to bring peace to anyone on any occasion 

Measures 5.5" W x 7.5" H

Made in India by skilled craftsmen
At Radhe Radhe, our commitment to our community and culture is paramount. We stand behind our community with the best quality products and services. Our ultimate goal is to make sure our customers are satisfied with our product from the moment they bring it into their lives.
So what are you waiting for? Simply click on the Add To Cart Button to get this amazing Wise Buddha Meditating Statue, and enjoy the spiritual satisfaction.
Beautiful statue, well crafted, very nice sized, its a nice addition to my garden!!
It looks like it would be heavy but it isn't.
It's not stone, but I'm happy with it.